Thursday, September 30, 2004
Wanderers no more...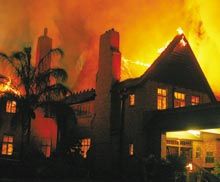 "One of the country's oldest clubhouses, at the Wanderers, is no more.

In spite of valiant efforts by firefighters to save the building, the roof collapsed last night, and with it, more than 100 years of history went up in flames.

The club was established in 1888 and moved to Illovo in the northern suburbs of Johannesburg in the 1930s.

Strewn on the grass outside were some picture frames and medals that staff and club members had managed to salvage.

Scores of onlookers watched helplessly as flames engulfed the building. The fire is believed to have started at about 6.30pm.

Witnesses said it apparently started after a gas cylinder exploded in the kitchen next to the bar.

By 8pm the fire had engulfed the entire building, including the clock tower, which came down when the roof on the side of the bar, kitchen and restaurant collapsed".

Looks like the Mowbray Marauder has struck again. This is truly a very sad day for South African sport, and even a Capetonian will admit to that.

Here's the scoop:
http://www.thestar.co.za/index.php?fSectionId=128&fArticleId=2244195