Friday, September 17, 2004
'Slutwear' Is So Last Year on New York Runways
"NEW YORK (Reuters) - Now you see it. Soon you won't. In a trend sure to be a relief to some and a disappointment to others, women will cover up instead of baring it all next season as the "slutwear" look comes to an end.
Demure designs have replaced scanty navel-baring looks on the catwalks of this week's semi-annual run of fashion shows, a reliable sign of what shoppers can expect to find in stores next spring.
"The slut is out now. She's dead," said Godfrey Deeny, senior fashion critic at Fashion Wire Daily.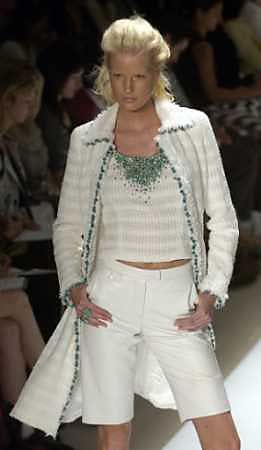 In recent seasons, fashion has been filled with skimpy tops exposing midriffs, cleavage-revealing necklines and jeans slung so low that precious little was left to the imagination -- looks impossible to avoid on such pop icons as Paris Hilton and Britney Spears.
This season, blousy linen took the place of sheer chiffon, while shades of white chased away an edgier black. Necklines were up, while hemlines were hovering down at the knee.

"It's very ladylike. It's not jump-into-bed fashion," Deeny said of the new look on runways as established powerhouses to new designers trotted out more fabric and less skin than in seasons past. "
This is absolutely disgraceful. Who the fuck gets to make a decision like this? I firmly believe that slutwear represents the pinnacle of style, and the culmination of 3000 years of natural fashion evolution. We've got it where we want it, why the hell should it change now? Young girls have fantastic bodies, and its criminal to expect them to cover up. If fashion fundi's are so anti-skin and so pro Landbou Weekblad, why the hell don't they just convert to Islam and go and live in Yemen? Let the rest of us enjoy the vleis we're getting now. Heck, before we know it, girls will start saving themselves for marriage, wearing bloomers and dragging us down to the drugstore for sodas and sundaes. Bollocks. Vive la Slut!