Thursday, September 30, 2004
Sex and the Shitty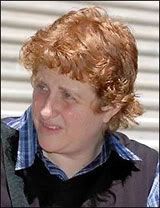 Take a look at this picture. Do you see what I see? If you see a grotesque monstrosity of indeterminable sex, then you're on the right track. I must warn you now to only read on if you have a strong stomach. I purged a bowlful of chocolate Pronutro all over my desk when I was compiling this post.

The "woman" featured is none other than the latest fling of actress Cynthia Nixon, who only recently won an Emmy for her role as the cynical, bitchy Miranda in HBO's Sex and the City.
Ok, granted that Miranda was always the dog in the bunch, I wouldn't have expected her to nab the hottest catch out of the four girls (personally, i think Kristin Davis aka Charlotte is a sexy fox), but puh-leeeze - not even Ellen de Generes would stoop to carpet-bagging Quasimodo here (and Ellen's had her fair share of uggo's). Yikes. Clearly money can't buy you love. I wonder if Cynthia kept the receipt?