Tuesday, September 21, 2004
"I can't come to court - my hair's a mess"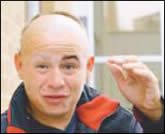 "A Red-faced defendant has been allowed to appear before a Swansea court wearing a baseball cap after receiving a haircut from hell.
Darren Brock had woken from a drunken sleep in the barber's chair two days earlier to find a horror image staring back at him from the mirror. He was so upset about the way he looked, he refused to attend court yesterday to answer a summons for being found drunk six months earlier.

Sympathetic magistrates decided against having him arrested for non-attendance. Instead, they suspended the usual court rules of etiquette and allowed him to attend later in the day wearing a cap to hide his embarrassment."
Yip. I know the feeling. And I've tried the excuse, but my boss just doesn't seem to give a shit. Probably because he goes to court with bad hair all the time.