Thursday, September 02, 2004
Carmen Electra Grabs Top Bottom
Curvy Carmen Electra has come "top of the bots" to pinch the best bottom crown from Kylie Minogue. The former Baywatch babe came on top in a magazine's survey to name the sexiest female. The 32-year-old beat off Kylie,36, by just 1%. Beyonce Knowles,22, came third (Heck, I'm not gonna argue too much here. Kylie's got a beautfiul toilet, and I'd definately slap Carmen in the face with my... face-slapper(?). Although I don't quite get Beyonce. Yes, she's alright, but her ass is just a tad too be-ouncy for my personal tastes. In fact, she may even get pipped in my list by Saartjie Baartman)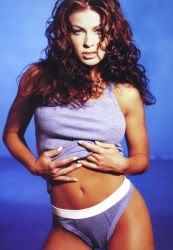 The FHM magazine survey also saw Slovakian bra model Adriana Karembou,33,voted Sexiest Footballer's Wife. Adriana - whose other half, French ace Christian, plays for Olympiakos in Greece - polled 41% of the 37,000 votes.
Louise Redknapp,29, wife of Tottenham skipper Jamie,26, was runner-up followed by Czech beauty Eva Kiliano whose partner is Liverpool's Milan Baros. But there was no place in the poll for the most famous footballer's wife - Victoria Beckham.
Britney Spears,22, topped a poll of Fantasy Babes.