Thursday, September 30, 2004
Another night in Paris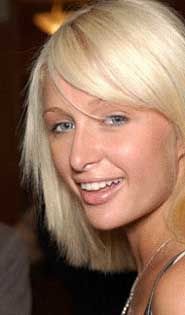 Oh boy! Paris Hilton's been at it again! The aspiring actress-cum-director-cum-producer, who's short career in the porn industry has already been a rousing success, has clearly set her sights on super-stardom (or super infamy). This time, video tapes of her getting hot and nekkid with Backdoor Boy Nick Carter and Tommy Hilfiger model Jason Shaw have hit the 'net. Good for you, girl.

To add to my adoration, Paris apparently demonstrates her joint-rolling abilities in her latest cinematographic appearance. I only hope she'll let me audition for her next project, "Last Mango in Paris" (sorry, I tried 'banana' and 'finger', but they didn't work too well either, although I suppose I would love to munch on her fruit bowl).
PS. None of you sorry bastards have EVER posted a comment on my blog. How about it, then? To start with, anyone who can find a FREE link to download the Hilton videos - share it!